'Pie' Love You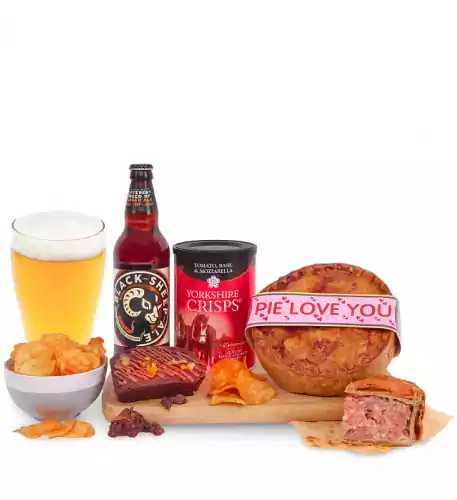 Pork Pie Lover in your life, with this not too subtly messaged combo. A large hand-raised pork pie, a bottle of Black Sheep Beer, a tub of moreish Yorkshire crisps and a little sweetness to finish with delicious chocolate truffles.
The classic Pork Pie is hand-crafted by our skilled bakers with a traditional hot-water crust pastry, enriched with butter to give that perfect deep golden, crispy bake. Filled to the brim with the finest, succulent pork shoulder and our special blend of herbs and seasonings. At just under a kilo in weight, there's lots of pork-pie love to go round, or pop it in the freezer to enjoy at another time.
We have teamed up with Valley Bakery to bring you only the finest hampers the whole family will adore. Here at Valley Bakery, we believe in the best and share a passion for creating delicious pastries and bakes in the very heart of Yorkshire. We take pride in our practice with tried and tested traditional handcrafting techniques. From all-butter pastry, blind bake quiches and indulgent brownies there is something for everyone using only the best quality locally sourced ingredients. Experience a taste of the Yorkshire Valley today, with our artisan treats and gourmet gifts collection.