Send Stuffed Animal UK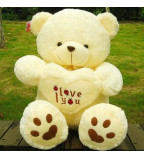 Bring smile on face by sending cute teddy bear online in UK for kids or loved one on special day. Check out the wide range of teddy bear from Flowersukdelivery and shop online for cute stuffed animals in very exclusive rates.
More Ideas about Cute Soft Stuffed Animal Gifts
We have many occasions to celebrate, in fact; if possible, we want celebration every day. And celebration has a very close relationship with gifts. We select gifts according to our budget, but actually gifts do not require price tag. All it carries is feelings, love and emotions. Cute soft stuffed animal gifts are pocket friendly, at the same time they are best gifts to express emotions for people you care about. Here are some more ideas about cute soft stuffed animal gifts.
Colourful Different Shaped Animal Gifts
These beautiful and cute soft stuffed animals are best to be gifted to your close ones-friends, besties, BFFs, loved ones. These soft toys are available in different animal shapes like elephants, teddy bears, penguins, colourful caterpillars, tortoises, little Macau birds, white pandas, rabbits, cute puppies, baby deer; even the smiley faces as well. All these stuffed gifts are available in different sizes. The most attractive part of the gifts are they carry sweet messages like- 'Best friends', 'I Love You', 'Someone Special', 'Best Wishes', 'Just For You' etc. There are plenty stuffed animal for sale which one can buy in reasonable price online.
Stuffed animals and flower bouquets
Besides presenting a single gifts, this online website provides hundreds of various gift baskets including stuffed animals and flower bouquets.These gift baskets includes different sets of gifts like a soft cute stuffed Mickey Mouse set of Johnson gift products (for babies), a small cute teddy bear holding a bunch of yellow roses or other bunch of beautiful flowers, a whole bunch of funny puzzle sets, or simply, a box of chocolate with a small teddy bear and a bunch of inflated smiley round balloons.
Wonderful Variety of soft Stuffed Teddies
These are cuddly stuffed teddy bears are exclusive gifts. There are varieties of it; different colours and different names; some are clutched with small hearts to it. These bears have attractive names as well, like- 'love teddy bears white', 'pink bear', 'Bonnie get well soon bear', 'mini molly bunny', 'honey bear', 'eddie bear', 'Garfield', 'molly bunny' etc. Buy these cute stuffed animals that are free for sale and gift them to your loved ones.
These incredible gifts are exclusive and attractive ones as well that not only save your money but also will give your loved one some really beautiful memories to cherish.
Cities We Deliver To :