18 Chocolat Shortbreads | Biscuits of the Gods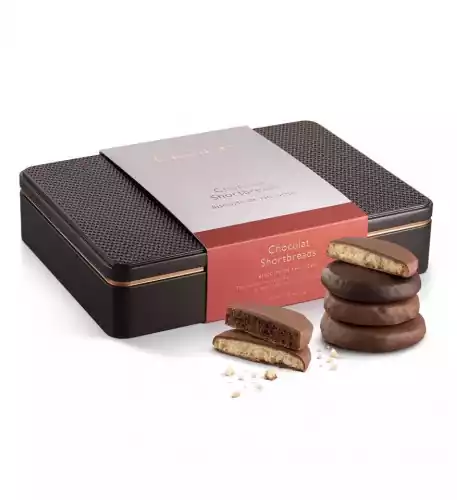 Oh shortbread, the melt-in-your-mouth tea break staple that strikes the perfect balance between irresistibly crumbly and sumptuously soft. What would we do without it? As a nod to one of Britain's favourite biscuits, we've added a rather '' twist to our shortbreads.

A biscuit like no other, we've fully covered our Chocolat Shortbreads with our house chocolate so you can experience the taste of our high-cocoa recipe with the moreish bliss of the shortbread's buttery sweetness.

In this tin, you'll be treated to a selection of 18 biscuits. Perfect for gifting, bringing into the office as an unforgettable offering, or keeping all to yourself — we wouldn't blame you. These heavenly shortbreads come beautifully presented in a classic embossed keepsake tin to store all your biscuits to come.

Our Chocolat Shortbreads now include even more chocolate for an extra touch of decadence. Lift the lid and take your pick. The perfect marriage of crunch and melt, we can't get enough. Drift away from it all for a moment — or two. Dip, nibble and relax.

Explore the following flavours:

Milk Chocolate - Shortbread enrobed in our 43% milk chocolate. Creamy, mellow, buttery — a classic favourite. Perfect for afternoon nibbles.
70% Dark Chocolate - Our gorgeously rich 70% dark enrobed shortbread. Deep, elegantly balanced. Best enjoyed with a cup of fresh coffee.
Nut & Nib - Our 43% milk chocolate enrobed cacao nib shortbread. Cacao depth meets satisfying crunch.


Discover your favourite shortbread flavour and revolutionise your break time