Sympathy Gifts For UK Delivery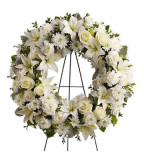 Convey your condolence to your friends, family or dear one with Sympathy gifts delivery in UK. Flowersukdelivery has wide collection of funeral flowers arrangements to show your care. Great value sympathy flowers delivered all over the UK.
Show Your Condolence with Sympathy Gifts Delivery UK
Grief and loss is a process and a journey that can continue for the lifetime. This event is the one that you will not get over and be back as a normal in no time. Don't let other to influence you to think differently.
Sympathy gifts are a way to give your condolences to the one who needs your support and strength. Online sympathy blooms and gifts are the perfect way to touch your loved ones heart and influence their mood in a positive way.
The beauty of white blooms is specially associated with sympathy. The reason for this is the white color that represents peace, purity, love and sympathy. Sympathy flower bouquets are also known as funeral flowers that are placed near grave of the lost person.
The online bloom store offers exclusive collection of sympathy flowers available for online delivery. Sympathy gifts delivery UK offers you fast delivery service. Book them now and receive the bouquet on the very same day. The quick delivery delivers fresh blooms that will keep the purity and freshness of the message alive. Sending those bouquets of flowers is a well established tradition for expressing sympathy or condolence at the passing of someone's loved one.
The sympathy gift you choose also depends in part on the relationship you have with your friend. It also depends on his/her personality. But, no matter how you choose to express your sympathy after a family death, remember that your presence and hugs are what count most. The more you listen and are available to your friend, the more comforted he/she'll feel. By sending flowers in UK, share your condolence to your dear one.
Bouquet of flower is a heartwarming, uplifting gift idea that helps in expressing your sympathy and support after the death. It is a gift that brings life, light, beauty and freshness.
Last but not the least, sympathy gifts are those that bring hope and healing because that is what we need after a loved one's loss.