The Marzipan Chocolate Box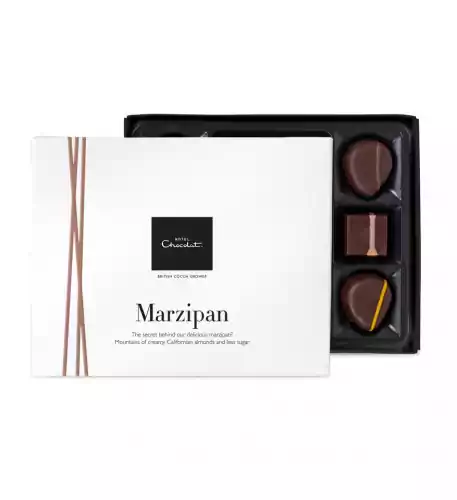 Smooth, Mellow Marzipan Wrapped In High Cocoa Chocolate. Simply Stunning, Marzipan Deserves Nothing But The Best, Which Is Why Our Recipes Are Packed Full Of As Many Almonds As Possible For That Delicate And Fragrant Taste. Sometimes Less Is More, And When It Comes To Our Marzipan Chocolate Box We Have To Agree.
Marzipan Ingot - Exclusive To This Marzipan Chocolate Box Only, Our Marzipan Ingot Is Sumptuously Smooth, Wrapped In A Thick Layer Of Mellow Milk Chocolate. Mellow Cocoa Notes Paired With The Smooth Richness Of Almond Makes For A Moreish Treat.

Marzipan & Amaretto - Tender And Succulent Marzipan, Made Just How It Should Be, With 52% Almonds. Weve Added A Generous Dash Of Luxardo Amaretto To Add A Warming Backdrop And Extra Almond Undertones. Sealed In 70% Dark For An Added Depth That Complements Almond And Booze Beautifully.

Orange Marzipan - Citrus Notes Go Well With Succulent And Moreish Almond Flavours. The Fragrance Of Orange Goes Particularly Well With Marzipan, Resulting In A Taste Evocative Of Orange Blossoms And Almond. We Use Real Orange Oil To Capture The Fresh Flavours Of An Authentic Orange Plucked Fresh From The Tree.

Almond Marzipan - Almond-Rich Marzipan, High Cocoa Dark. Nothing Complicated: Just Marzipan Packed With Almonds And Dark Chocolate Deep With Cocoa Notes. This Is The Real Deal: Light, Less Sweet, Almost Fluffy.

The Marzipan Chocolate Box Comes Packaged In Our Uniquely Hand Piped Foil Design On The Packaging, Perfect For Gifting Or A Bit Of Self-Indulgence.